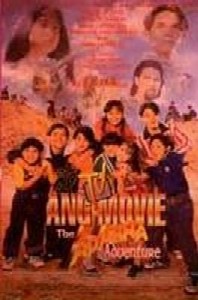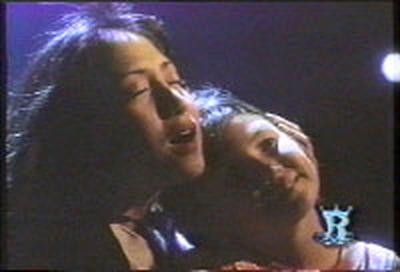 Ang TV: The Movie, The Adarna Adventure
Ang TV: The Movie gives Jolina her first big role in a film. Based from the pinoy classic Ibong Adarna, Jolina plays the Adarna bird (in human form) who has the singing voice that could heal the father of Don Juan (Gio Alvarez) and his two evil brothers.
The "adventure" in this movie is that the children literally experience the story being told by their lola and goes back to the past, specifically the time of the story. Later on, it's the Adarna and Don Juan who goes forward to the present.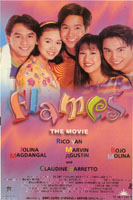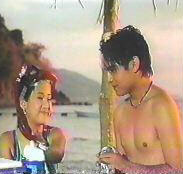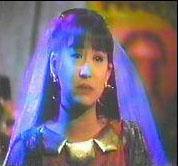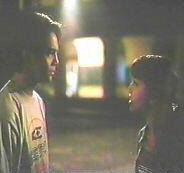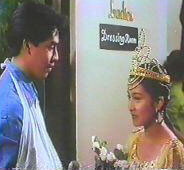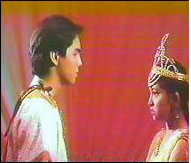 Flames: The Movie
A twin-bill, Flames: the movie features the loveteam of Jolina Magdangal and Marvin Agustin in the episode, "Tameme" for the first time in a movie. Jolina is Leslie, Butch's (Marvin Agustin) apple of the eye as well as Rolly's (Bojo Molina). The problem: Butch is tameme or more popularly known as torpe! Butch gets intimidated by Leslie being rich, which causes the conflict between the two. In the end, no matter who you are or how much money you have, love is still all that matters.
Playdate: July 1997
Director: Jerry Lopez Sineneng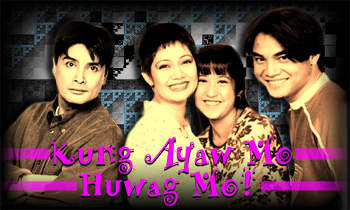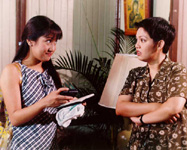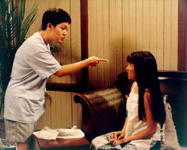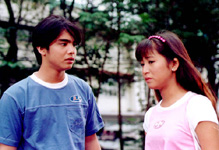 Kung Ayaw Mo, Huwag Mo
Kung Ayaw Mo, Huwag Mo, is the first full length film of the Marvin-Jolina loveteam and the second movie Jolina is with Maricel Soriano. The movie is about the relationship of the 2 sisters, Ditas (Jolina) and Doris (Maricel Soriano) as they go through life with only the two of them together, and their respective love interests Marvin Agustin and William Martinez. The conflict begins when Doris becomes too strict on Ditas on having a boyfriend. Jolina and Maricel Soriano delivers a heartbreaking scene as Ditas and Doris pour their hearts out on each other in the classic "pencil case" scene.
Marvin has Dominic Ochoa as his rival to Ditas' heart in this movie, but it turns out Ditas does not really like Dominic. Who could ever forget these lines?
Ditas: Eh bakit ka ba nagagalit?
Nico: Nagagalit ako kasi mahal kita!
Ditas: Eh anong problema mo, eh mahal din naman kita!
Nico: Anong sabi mo?
Ditas: (tones down her voice) sabi ko mahal din kita.
Kung Ayaw Mo, Huwag Mo is a tailored film for Marvin and Jolina because the loveteam was seen as the Maricel-William or the "Taray and Kulit" of th 90s.
Playdate: February 25, 1998
Director: Jerry Lopez Sineneng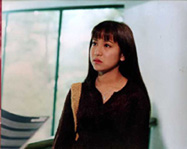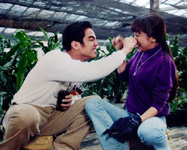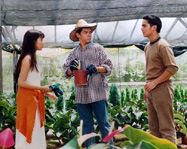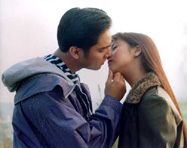 Labs Kita...Okay Ka Lang?
Every Marvin-Jolina fan knows that this film is "big" for the loveteam. This film is the big launch of the loveteam on the big screen and this film almost made these reel lovers to real lovers (almost? or did they?) Well, others say it was nipped in the bud.
A film about bestfriends Bujoy and Ned as they enter college and as they both discover feelings for each other that is more than being bestfriends. The problem: Bujoy had feelings for Ned but he was too slow to realize that he had feelings for her too. He was too busy with Mary Ann not knowing Bujoy was hurting. The result: a bitter and painful revelation and confrontation in the parking lot between Bujoy and Ned. And what was the line again?
Bujoy: Oh yes, kaibigan mo lang ako! (i'll cut it short) And I'm so stupid to make the biggest mistake of falling in love with my bestrfriend!
The end: Ned decides to go to Manila, Bujoy tries to catch his bus, thought she lost Ned, but (tada!) Ned got off the bus and was planning to go back, and they were just too happy to see each other.
Didn't this film just give you that "kilig" feeling? They didn't have a torrid kissing scene but their pinaka "kissing scene" at the end of the film will definitley give you the "kilig" feeling.
Playdate: August 26, 1998
Director: Jerry Lopez Sineneng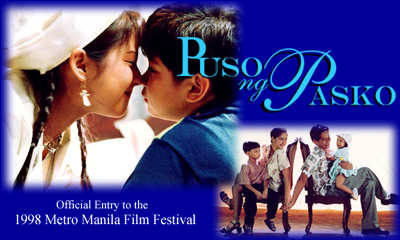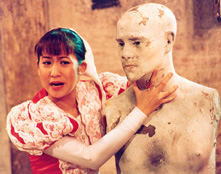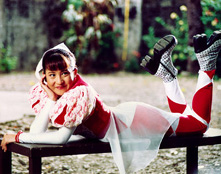 Puso Ng Pasko
Puso Ng Pasko was the official entry of Star Cinema for the MMFF (Metro Manila Film Festival) in 1998. A film about 4 siblings' fight against their evil aunts, Jolina plays Merry, the Christmas ball genie. She grants the siblings the usual 3 wishes and helps them along the way. Jolina once again is able to showcase her varied talents as she acts, sings, and dances in this film as Merry.
Definitely a movie for the young and old, Puso Ng Pasko is directed by Peque Gallaga and Lore Reyes, partners responsible for some of the local industry's fantasy films.
Playdate: December 25, 1998
Directors: Peque Gallaga and Lore Reyes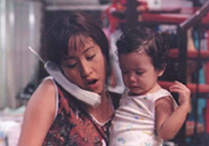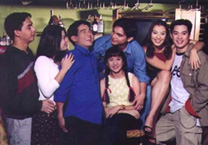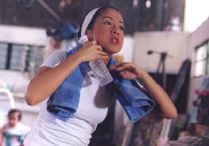 Gimik: The Reunion
Gimik: The Reunion is the much-awaited get-together of the ever famous barkada on tv: Gimik. Television viewers loved them, and for the last time that we will all see them together, Star Cinema featured them in one movie.
As most of us know, Jolina plays Ese, the bubbly girl who loves to make clothes. The tv series mostly showed how the barkada surpassed their problems as a barkada, but the film shows how each of the characters dealt with their own personal problems. Ese has trouble with money and her dad not being able to walk, and Joey (Marvin Agustin). Since Ese is too busy at home, Joey gets too "close" with an internet friend enough for Ese to break Joey's brand new car's windshield. Funny, because in the tv series, the viewers never saw a major fight between Joey and Ese because they were always a happy couple, and the break-up had to happen in the film. (Yes, they did break up.) The movie ends, with all conflicts resolved, only, the Marvin-Jolina fans are kept hanging since Ese decided that she and Joey should just remain friends for now.
Playdate: April 28, 1999
Director: Laurenti Dyogi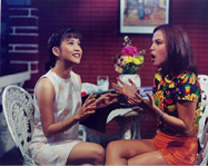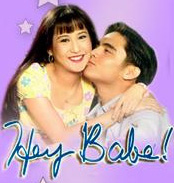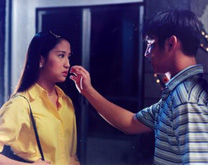 Hey Babe
Hey Babe once again pairs Jolina Magdangal and Marvin Agustin in a movie, as Abigail and Nelson respectively. Abigail is Nelson's apple of the eye. She is overly superstisious that she believes everything Madame Lola (Gina Pareņo) says. So what Nelson does is plan a little scheme with Madame Lola to make Abigail believe that he is the one for her and eventually get her heart. Of course this causes trouble for him when Abigail finds out. But they eventually work things out in the end.
Direk Joyce Bernal gives us the ultimate kilig moment in the film as Abigail and Nelson run around the a beautiful garden as the sprinklers open (kilig isn't it?).
Hey Babe as of now, is the last film Jolina and Marvin were together, and fans are afraid that this might really be the last one. (Keep your fingers crossed guys.)
Playdate: August 25, 1999
Director: Joyce Bernal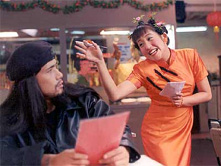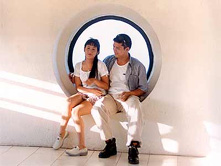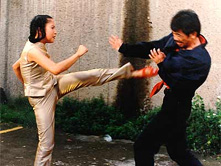 Tunay na Tunay, Gets Mo? Gets Ko!
Tunay Na Tunay pairs Jolina with one of her favorites, Robin Padilla. Jolina is Tin-Tin/Mei-ling a daughter of a rich Chinese who left home to get away from marrying a guy she doesn't like. Robin Padilla is Ramon/Nick, a spy who is hired by Tin-Tin's father to look for her. Ramon and Tin-Tin meet in China town where Tin-Tin works as a waitress in a Chinese restaurant and where Ramon gets hired to be a cook. They fight like cats and dogs but they eventually fall for each other.
For the first time, Jolina gets paired to a different leading man, which got everybody asking if this was the end of her loveteam with Marvin Agustin. She learned basic martial arts for this film since she had to kick some ass in the film.
Playdate: March 15, 2000
Director: Joyce Bernal
Kung Ikaw Ay Isang Panaginip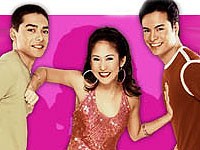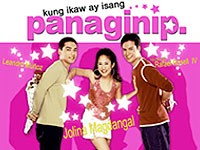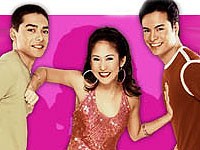 Kung Ikaw Ay Isang Panaginip is Jolina's follow up to Tunay Na Tunay after almost over a year. Jolina stars with Leandro Muņoz as Eric and Rafael Rossel in his debut role as Paolo. Jolina plays Rosalie, a girl who supplies meat products to the carinderias near an MRT station and a huge billboard of her ultimate crush--Paolo. On one ordinary day, she meets Eric, an MRT operator who falls in love with her. Everything would have been fine until Paolo comes alive inside the billboard and schemes to use Rosalie's love for him as the key to escape the billboard. Initially, Rosalie plans to use Eric too. But as the story unfolds, Rosalie is caught in a dilemma of who she really loves.
Kung Ikaw Ay Isang Panaginip is the last movie of Jolina with Star Cinema (hopefully, for now). Her non-renewal with ABS-CBN included a contract with Star Cinema. Today, Jolina Magdangal is a freelancer. Free as a bird to work with any other film outfit. Kung Ikaw Ay Isang Panaginip also stars John "Sweet" Lapus, Buboy Garovillo, with the special participation of the late Ms. Nida Blanca.
Playdate: January 30, 2002
Director: Wenn Deramas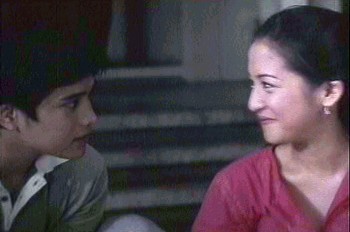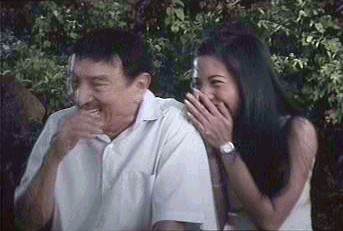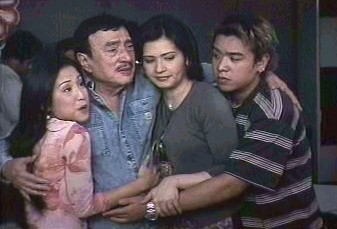 Home Alone Da Riber
For the first time, Jolina stars in a movie with her idol, the very admirable King of Comedy, DOLPHY in Home Alone Da Riber--RVQ's official entry for the Metro Manila Film Festival 2002.
Dolphy plays Upoy, the father Joey (Jolina) never knew, for he had to be imprisoned for a crime he didn't commit. When Upoy gets his parole, he visits his family and pretends to b a piano tuner. When he fixed Joey's piano, Joey felt an instant connection with him while singing a song her father taught her. Upoy then becomes a part of the family again but as a driver. He goes with Joey to school, and in her tapings when she finally gets a break in showbusiness. As the story goes further, Joey eventually discovers the truth about Upoy's identity in a tearful revelation scene in Upoy's house.
This is the first time Jolina and James come together in the big screen. They have been paired in the Sunday series Kahit Kailan and that is the reason why Dolphy chose James to be her love interest in the movie. James plays Vic, the environmental organization leader Joey has a crush on.
A classic story of a family separated and reunited that will make you value your family and other loved ones even more, and even care for the environment at the same time.
Playdate: December 25, 2002
Director: Enrico Quizon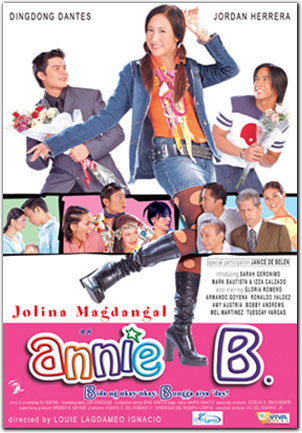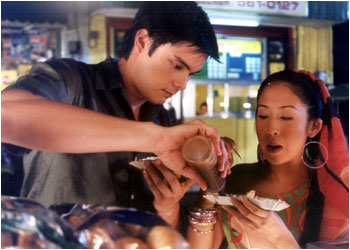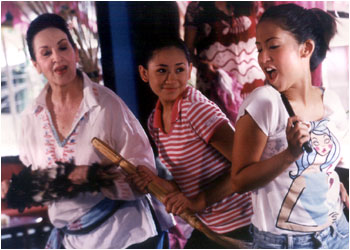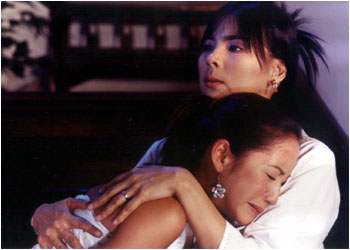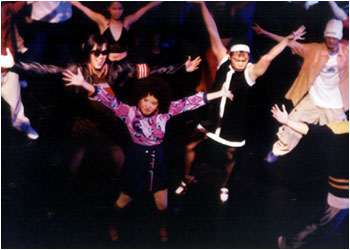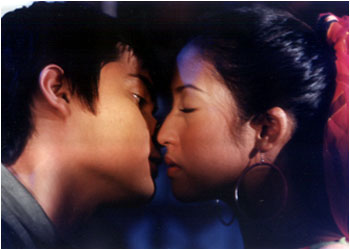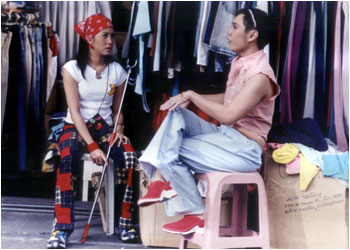 Annie B (Bida ng Ukay-Ukay, Bongga Siya 'Day!)
Fernando Gonzaga (Dingdong Dantes) owns an ad-agency. In the agency, the ususal events happen: there are storyboards, they discuss concepts, there are people who audition, they will shoot the actual commercial, client will be happy, there will be an increase in sales. The main endorser of the commercial will instantly be a star.
Annie (Jolina Magdangal) halts Fernando's wedding thinking it was Fernando who got her sister pregnant, but it was not him. It just so happened that the boyfriend of Annies sister bears the same name as that of Fernando Gonzaga. That guy was also from a rich family like Fernando who was based in London. He never showed up to Annie's sister after what happened to her.
Annie tells her story... it is true that life is a fairy tale. And she lives her fairy tale day by day.
This is Jolina's first movie under Viva films, her second solo starrer since Kung Ikaw Ay Isang Panaginip, her first pair-up with Dingdong Dantes and Jordan Herrera, and her first time to be directed in a movie by Louie Igancio. The movie was originally intended to be a remake of Ms. Nora Aunor's "Annie Batungbakal" back in the 70's but Viva decided to make it something new with the original film as an inspiration because of the conflict in the schedules of Jolina and the Superstar.
Playdate: March 3, 2004
Story & Screenplay by: RJ Nuevas
Director: Louie Ignacio

home